The big Warminster Christmas Celebrations event is set to join the town together with multiple markets, entertainment, and the Market Place Lights Switch-On on Saturday 25th November.
Start your day at 10am at Warminster Civic Centre's Christmas Market, in Sambourne Road with local stallholders selling gifts, treats, decorations, cards and more. There will be street food outside to enjoy and Santa's Grotto inside (11am to 3pm), which is £5 per child. Entry to the market is free and will run until 4pm with the Sambourne School choir performing outside the Civic Centre at 11am.
Fabulous festive events will be spread across the town – with the Warminster community encouraged to support independent stalls, shops and services.
READ NEXT: Last call for businesses to enter Warminster Christmas Window Competition 2023
Christmas stalls come to the High Street with roads closed from 12pm. The Warminster Independent Christmas Market, run by the Warminster Business Network is set to have multiple stalls with Christmas gifts and demonstrations entertaining the crowds.
More entertainment and events have been added to the packed schedule with The Athenaeum Centre having an interactive costume exhibition. There will be costumes for visitors to try on, and then a huge picture frame to have photographs with. Sticky Toffee Jazz will be singing outside from 12 to 2pm. For latest updates on the Independent Christmas Market follow @the_warminster_independent_ on Instagram.
Many local cafes and shops will be open with extended hours and special offers with additional stalls in the Three Horseshoes Walk. Businesses in Chinns Court will also be open for extended hours, with Pronto A Tavola open if the weather behaves for coffees and snacks.
From 2pm in the Market Place there will be a fun, festive atmosphere, and mini-fairground rides to enjoy. Bands playing live on stage including A Sackful of Sovereigns – a five-piece folk, rock, blues, country, roots, and soul band kicking off the live music on offer from 2pm. Warminster Rock Choir will perform from 3pm and the Vocal Works Gospel Choir will perform at 4pm – ahead of the Market Place Lights Switch-On at 5.30pm.
Full list of road closures:
On Saturday 25th November between the hours of 12pm and 7pm, the following Warminster roads and streets are to be closed (save in any case of emergency) to all vehicular traffic (except in the case of westbound buses departing at 12pm and 12.10pm only using High Street).
A) B3414 (Part) Market Place; from its junction with East Street to its junction with High Street
B) B3414 (Part) High Street; from its junction with Market Place to its junction with George Street
C) The Close (Part); from its junction with High Street to its junction with The Avenue
D) North Row; from its junction with High Street to its junction with The Avenue
E) Weymouth Street (Part); from its junction with High Street to its entrance to Morrisons Supermarket
• For more information on this event contact Tom Dommett, Town Clerk, Warminster Town Council, Tel: 01985 214847 or email: admin@warminster-tc.gov.uk.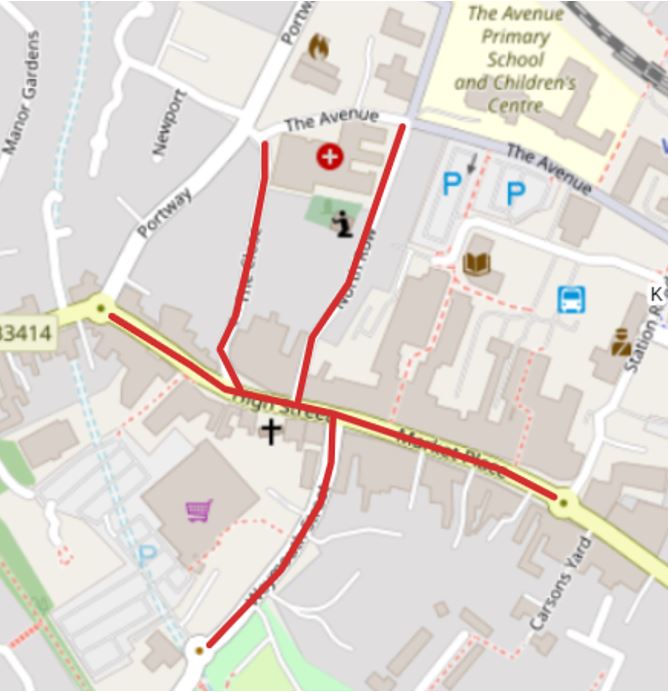 Last modified: 27 November 2023