Christmas Table Top Sale, Warminster Civic Centre
Event Date:
Sat 17 Dec 2022 at 10:30 am - 1:30 pm
Location:
Warminster Civic Centre
Sambourne Road,
Warminster
BA12 8LB
ℂ𝕙𝕣𝕚𝕤𝕥𝕞𝕒𝕤 𝕋𝕒𝕓𝕝𝕖 𝕋𝕠𝕡 𝕊𝕒𝕝𝕖
𝐒𝐚𝐭𝐮𝐫𝐝𝐚𝐲 𝟏𝟕𝐭𝐡 𝐃𝐞𝐜𝐞𝐦𝐛𝐞𝐫, 𝐖𝐚𝐫𝐦𝐢𝐧𝐬𝐭𝐞𝐫 𝐂𝐢𝐯𝐢𝐜 𝐂𝐞𝐧𝐭𝐫𝐞, 𝐁𝐀𝟏𝟐 𝟖𝐋𝐁
ʜᴀᴠᴇ ʏᴏᴜ ɢᴏᴛ ᴘʀᴇ-ʟᴏᴠᴇᴅ ᴏʀ ꜱᴇᴄᴏɴᴅ-ʜᴀɴᴅ ɪᴛᴇᴍꜱ ᴛʜᴀᴛ ᴡᴏᴜʟᴅ ᴍᴀᴋᴇ ᴀ ɢʀᴇᴀᴛ ᴄʜʀɪꜱᴛᴍᴀꜱ ɢɪꜰᴛ?
𝙿𝚛𝚎-𝚋𝚘𝚘𝚔 𝚢𝚘𝚞𝚛 𝚝𝚊𝚋𝚕𝚎 𝚗𝚘𝚠, 𝚘𝚛 𝚝𝚞𝚛𝚗 𝚞𝚙 𝚘𝚗 𝚝𝚑𝚎 𝚍𝚊𝚢!
£5 a table, turn up at 9:45am ready for the 10:30am opening.
sᴇʟʟᴇʀs ɪɴᴠɪᴛᴇᴅ – ғʀᴇᴇ ᴀᴅᴍɪssɪᴏɴ!
From 10:30am – 1:30pm, free admission for buyers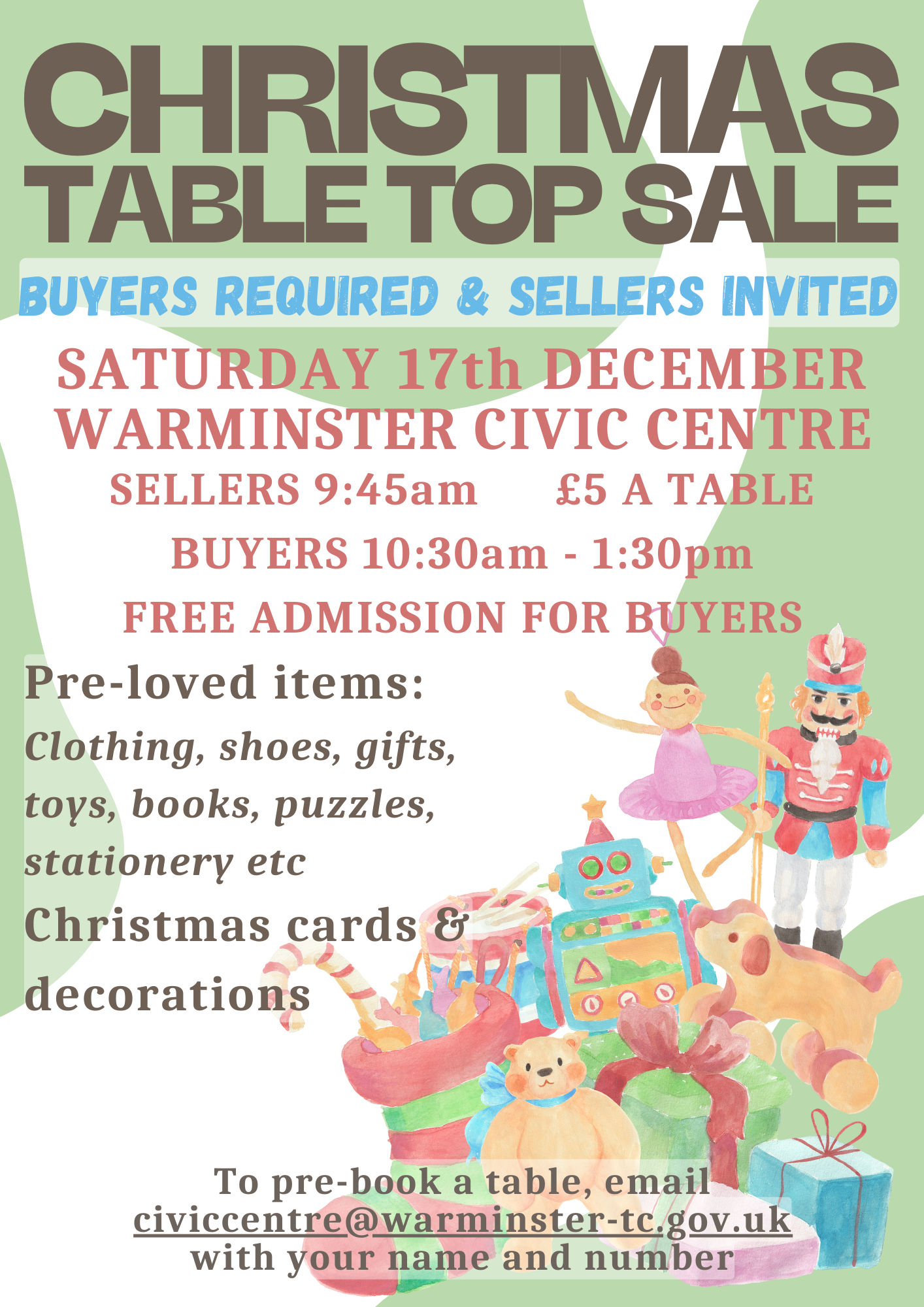 Get MAPS and DIRECTIONS to our Event locations.