Warminster U3A Monthly Talk – The Magic of Minack by Sandy Bateman
Event Date:
Wed 26 Jul 2023 at 2:00 pm - 4:00 pm
Location:
Warminster Civic Centre
Sambourne Road,
Warminster
BA12 8LB
Wednesday 26th July
The Magic of Minack
Warminster Civic Centre, 2pm
Entry £3.00 including tea, coffee & biscuits
The iconic Minack Theatre is a unique, open-air venue, set on the side of a cliff. It was created by Rowena Cade, who spent a lifetime designing and building it. The Minack is both a working theatre and a tourist attraction… and a film location – you may have seen it features in Fisherman's Friends 2!
For more information about this talk or to join Warminster U3A, please go to www.u3asites.org.uk/warminster/events or email memsec@warmu3a.uk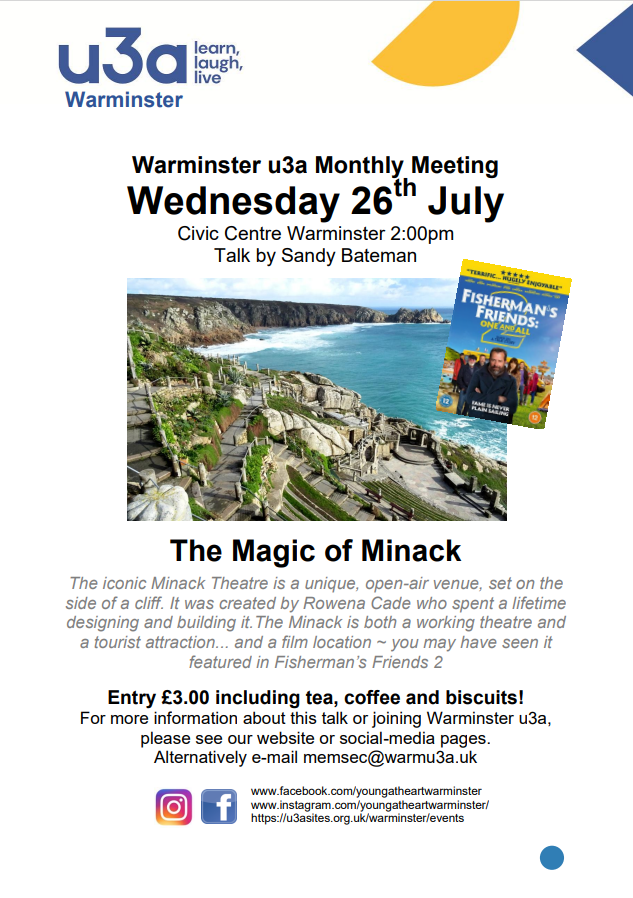 Get MAPS and DIRECTIONS to our Event locations.