Warminster will join together to put on a bumper Christmas celebration and lights switch-on event on Saturday 25th November.
Festive events will be spread across the town – with the Warminster community encouraged to support independent stalls, shops and services – with something for everyone.
Christmas celebrations begin at 10am at Warminster Civic Centre's Christmas Market, in Sambourne Road. The market will be opened by the Warminster Town Crier and will be brimming with local stallholders selling gifts, treats, decorations, cards and much more.
There will also be street food outside the Civic Centre to enjoy and Santa's Grotto inside (11am to 3pm), which is £5 per child. Entry to the market is free and will run until 4pm.
Christmas stalls come to the High Street with roads closed from 12pm (see below for further details). The Warminster Independent Christmas Market – run by the Warminster Business Network, is set to have more than 30 stalls with Christmas gifts and demonstrations entertaining the crowds from 12.30pm.
Mulled wine, the Lions Book stall, the Warminster Cooking School, handmade vintage gifts, candles, hot food, the Wiltshire Drinks Company and much more will keep crowds entertained until 6pm.
There will be more stalls in the Three Horseshoes Walk and from 2pm entertainment begins in the Market Place creating a fun, festive atmosphere, and mini fairground rides to enjoy.
Bands will be playing live on stage including A Sackful of Sovereigns – a five-piece folk, rock, blues, country, roots and soul band, Warminster Rock Choir and the Vocal Works Gospel Choir ahead of the Lights Switch-On at 5.30pm.
There will also be food and decorated shop windows for visitors enjoy. Roll With It, 38a Market Place will extend their opening hours on the day selling hot baps and other shops are expected to open longer.
The day is set to be a Christmas celebratory extravaganza with the opportunity for residents to explore the many incredible Warminster shops and services.
Many shops will be extending their opening hours including Baber Animal Feeds in Chinns Court open until 6pm and Yarn for the Soul in East Street also open to 6pm – with mulled wine, gingerbread and 10% off everything in the shop on the day.
The town takes a great deal of pride in its annual Christmas Lights Switch-On. They bring a sparkle to the festivities and shoppers to Warminster. There will be heaps to choose from and the atmosphere will get visitors into the Christmas spirit as we approach the countdown to the big day.
Councillor Phil Keeble, Mayor of Warminster, said:
We are excited for this bumper Christmas event which will cover many areas of Warminster. The Christmas Market and Lights Switch-On event is always a highlight of the shopping year.

We are delighted to be working alongside the Warminster Business Network to put on an incredible event that involves more of Warminster than before. Existing businesses, independent market stalls and the town council are looking forward to working together to host this large event."
A Warminster Business Network spokesperson said:
The larger town Christmas event is something that has been discussed for many years and will be the first step towards increasing vibrancy and variety within the town centre itself.

The WBN is proud to support the businesses behind this event and looks forward to supporting many more events next year. We hope to help drive sustainable economic growth and strengthen community bonds, encouraging Warminster to fulfil its full potential."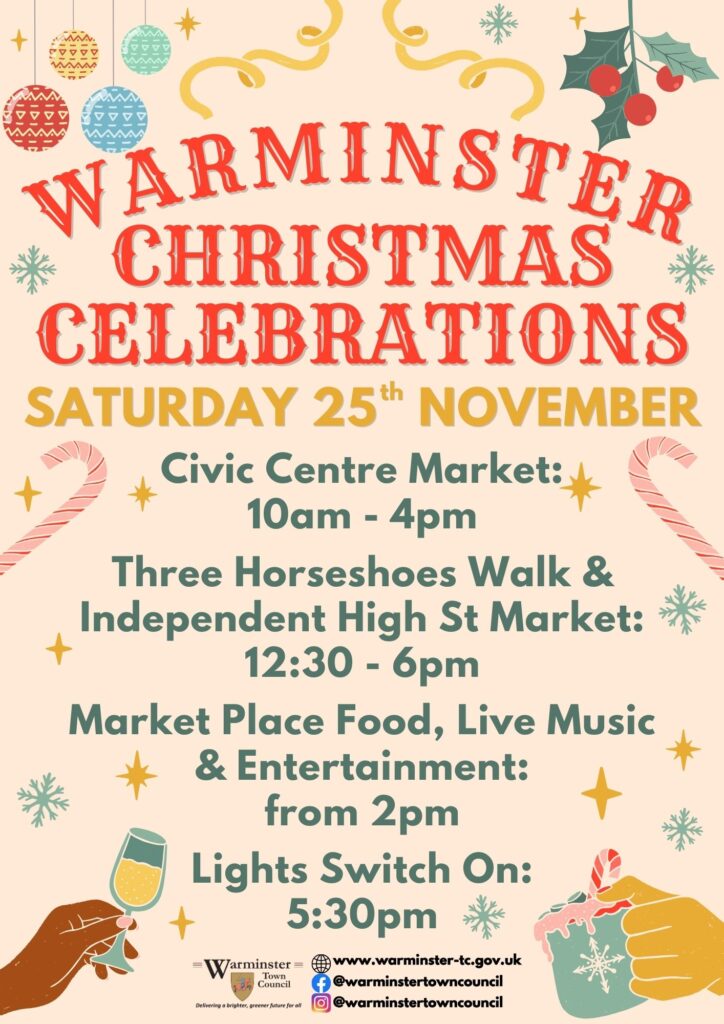 𝐑𝐞𝐬𝐢𝐝𝐞𝐧𝐭𝐬 𝐚𝐫𝐞 𝐞𝐧𝐜𝐨𝐮𝐫𝐚𝐠𝐞𝐝 𝐭𝐨 𝐰𝐚𝐥𝐤 𝐨𝐫 𝐜𝐲𝐜𝐥𝐞 𝐭𝐨 𝐭𝐡𝐞 𝐞𝐯𝐞𝐧𝐭 𝐚𝐬 𝐭𝐡𝐞 𝐇𝐢𝐠𝐡 𝐒𝐭𝐫𝐞𝐞𝐭 𝐚𝐧𝐝 𝐌𝐚𝐫𝐤𝐞𝐭 𝐏𝐥𝐚𝐜𝐞 𝐰𝐢𝐥𝐥 𝐛𝐞 𝐜𝐥𝐨𝐬𝐞𝐝 𝐚𝐧𝐝 𝐬𝐮𝐫𝐫𝐨𝐮𝐧𝐝𝐢𝐧𝐠 𝐫𝐨𝐚𝐝𝐬 𝐞𝐱𝐭𝐫𝐚 𝐛𝐮𝐬𝐲.
𝐅𝐮𝐥𝐥 𝐥𝐢𝐬𝐭 𝐨𝐟 𝐫𝐨𝐚𝐝 𝐜𝐥𝐨𝐬𝐮𝐫𝐞𝐬:
That the following roads and streets in the town of Warminster are to be closed (save in any case of emergency) to all vehicular traffic (except in the case of westbound buses departing at 12:00 and 12:10 only using High Street) at the approximate times set out below:
A) B3414 (Part) Market Place; from its junction with East Street to its junction with High Street.
B) B3414 (Part) High Street; from its junction with Market Place to its junction with George Street.
C) The Close (Part); from its junction with High Street to its junction with The Avenue.
D) North Row; from its junction with High Street to its junction with The Avenue.
E) Weymouth Street (Part); from its junction with High Street to its entrance to Morrisons Supermarket.
Nothing in this Order shall prevent vehicles from proceeding in the said lengths of roads when being used in connection with the event stated above.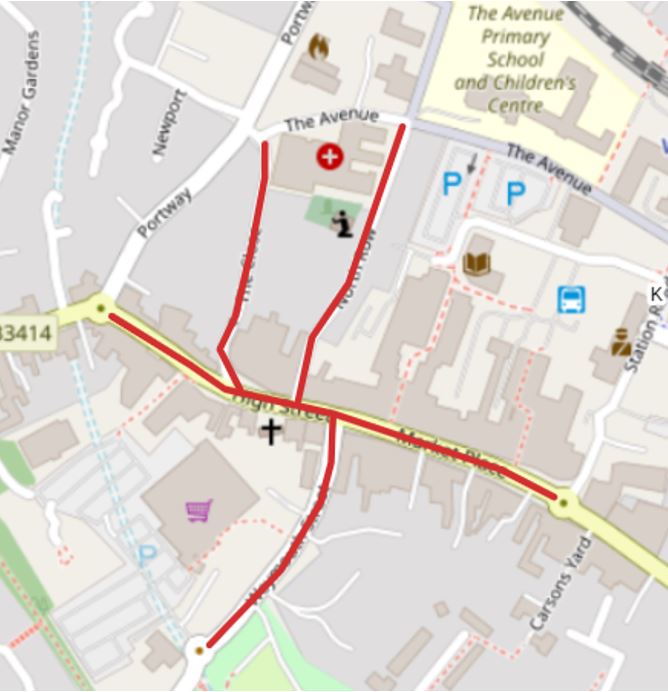 Last modified: 23 November 2023