Robin Hood Sunday 30th July 2023, 6.30pm
Map Unavailable
Event Date:
Sun 30 Jul 2023 at 6:30 pm - 8:30 pm
Illyria is back! This summer, the award winning company presents Robin Hood, an action packed heist for the whole family. This fast moving production delivers huge laughs, swashbuckling adventures, and well deserved revenge!
While good King Richard is away fighting the crusades, his friend Robert Fitzooth, under the assumed name of Robin Hood, resolves to relieve corrupt landowners of their wealth, to ruin the inept Sheriff of Nottingham and to do all he can to prevent the power-mad Prince John from seizing the throne.
Featuring tales of camaraderie, good against evil and riotous comedy, this remains one of Illyria's most popular ever titles. You'll definitely laugh, you'll probably cry – and if you're not cheering at the archery competition involving the entire audience then you must be dead.
Pack a picnic and join us for a fantastic performance in the beautiful grounds of historic Manor Farm in Wiltshire.
Tickets £16 adults and £10 children, for more information and tickets
Running time (approx): 1hr 50mins (inc 20 minute interval)
Suitable for ages 5+ (younger children also welcome!)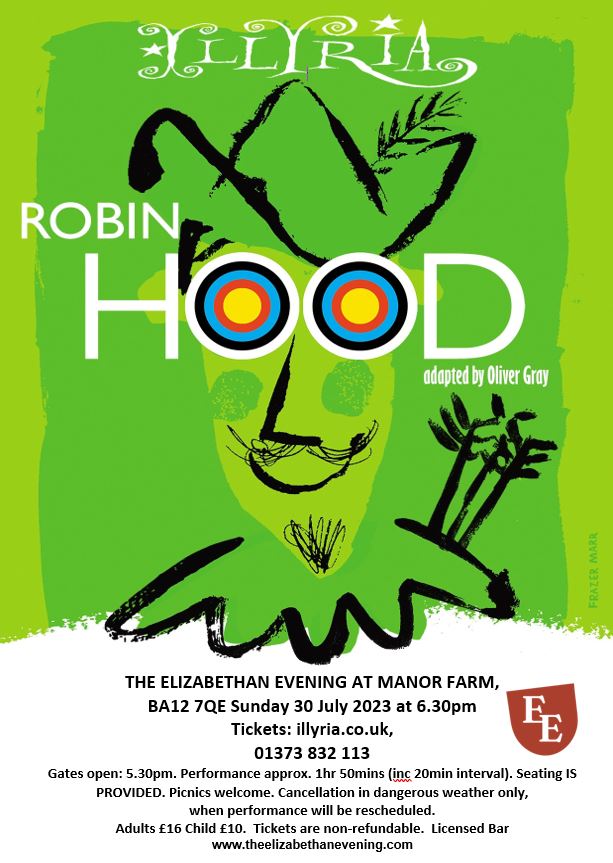 Get MAPS and DIRECTIONS to our Event locations.