Thriving Under Pressure – TA Talk at Warminster School
Event Date:
Thu 27 Apr 2023 at 7:30 pm
Location:
Warminster School
Warminster School,
Warminster

Warminster School have just launched their next TA Talk – Thriving Under Pressure, with Clare Josa.
Join them to hear from author and international keynote speaker Clare Josa to learn how to thrive under pressure, boost confidence and ahead of exams, how to help students beat stress to reach their academic potential.
Clare is an expert in the neuroscience and psychology of performance, her original training as an engineer means her inspirational approach is grounded in practical common sense, creating breakthroughs not burnout.
Clare is the author of eight books and has been interviewed by the likes of The Independent, The Daily Telegraph and Radio 4, amongst others. Clare speaks internationally on how to change the world by changing yourself. There will be an opportunity for questions, followed by refreshments. All welcome.
The talk will take place at 7:30pm on Thursday 27th April in the TA Hall. Tickets are free but please let them know you're coming for catering arrangements-
https://www.trybooking.co.uk/CFDF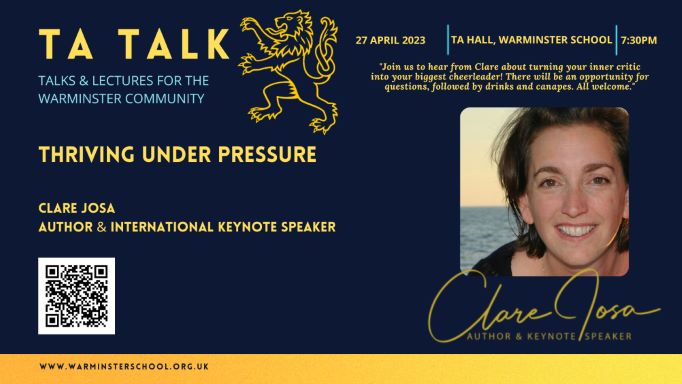 Get MAPS and DIRECTIONS to our Event locations.