Warminster Christmas Lights Switch On
Map Unavailable
Event Date:
Sat 25 Nov 2023 at 5:00 pm - 7:00 pm
Christmas stalls come to the High Street with roads closed from 12pm. The Warminster Independent Christmas Market – run by the Warminster Business Network, is set to have more than 30 stalls with Christmas gifts and demonstrations entertaining the crowds from 12.30pm.
Mulled wine, the Lions Book stall, the Warminster Cooking School, handmade vintage gifts, candles, hot food, the Wiltshire Drinks Company and much more will keep crowds entertained until 6pm.
There will be more stalls in the Three Horseshoes Walk and from 2pm entertainment begins in the Market Place creating a fun, festive atmosphere, and mini fairground rides to enjoy. Bands will be playing live on stage including A Sackful of Sovereigns – a five-piece folk, rock, blues, country, roots and soul band, Warminster Rock Choir and the Vocal Works Gospel Choir ahead of the Lights Switch-On at 5.30pm.
There will also be food and decorated shop windows for visitors enjoy. Roll With It, 38a Market Place will extend their opening hours on the day selling hot baps and other shops are expected to open longer. The day is set to be a Christmas celebratory extravaganza with the opportunity for residents to explore the many incredible Warminster shops and services.
Many shops will be extending their opening hours including Baber Animal Feeds in Chinns Court open until 6pm and Yarn for the Soul in East Street also open to 6pm – with mulled wine, gingerbread and 10% off everything in the shop on the day.
The town takes a great deal of pride in its annual Christmas Lights Switch-On. They bring a sparkle to the festivities and shoppers to Warminster. There will be heaps to choose from and the atmosphere will get visitors into the Christmas spirit as we approach the countdown to the big day.
Festive events will be spread across the town – with the Warminster community encouraged to support the many independent stalls, shops and services:
Civic Centre Market: 10am – 4pm
Santa's Grotto at the Civic Centre: 11am – 3pm
Three Horseshoes Walk & Independent High Street Market: 12.30 – 6pm (including demonstrations and activities)
Market Place Food, Live Music & Entertainment: from 2pm
Lights Switch-On: 5.30pm
Residents are encouraged to walk to the event if possible – road closures (High Street and Market Place) will be in place and parking limited.
𝐅𝐮𝐥𝐥 𝐥𝐢𝐬𝐭 𝐨𝐟 𝐫𝐨𝐚𝐝 𝐜𝐥𝐨𝐬𝐮𝐫𝐞𝐬:
On Saturday 25th November between the hours of 12pm and 7pm, the following Warminster roads and streets are to be closed (save in any case of emergency) to all vehicular traffic (except in the case of westbound buses departing at 12pm and 12.10pm only using High Street).
A) B3414 (Part) Market Place; from its junction with East Street to its junction with High Street
B) B3414 (Part) High Street; from its junction with Market Place to its junction with George Street
C) The Close (Part); from its junction with High Street to its junction with The Avenue.
D) North Row; from its junction with High Street to its junction with The Avenue.
E) Weymouth Street (Part); from its junction with High Street to its entrance to Morrisons Supermarket
For more information on this event contact Tom Dommett, Town Clerk, Warminster Town Council, Tel: 01985 214847 or email: admin@warminster-tc.gov.uk.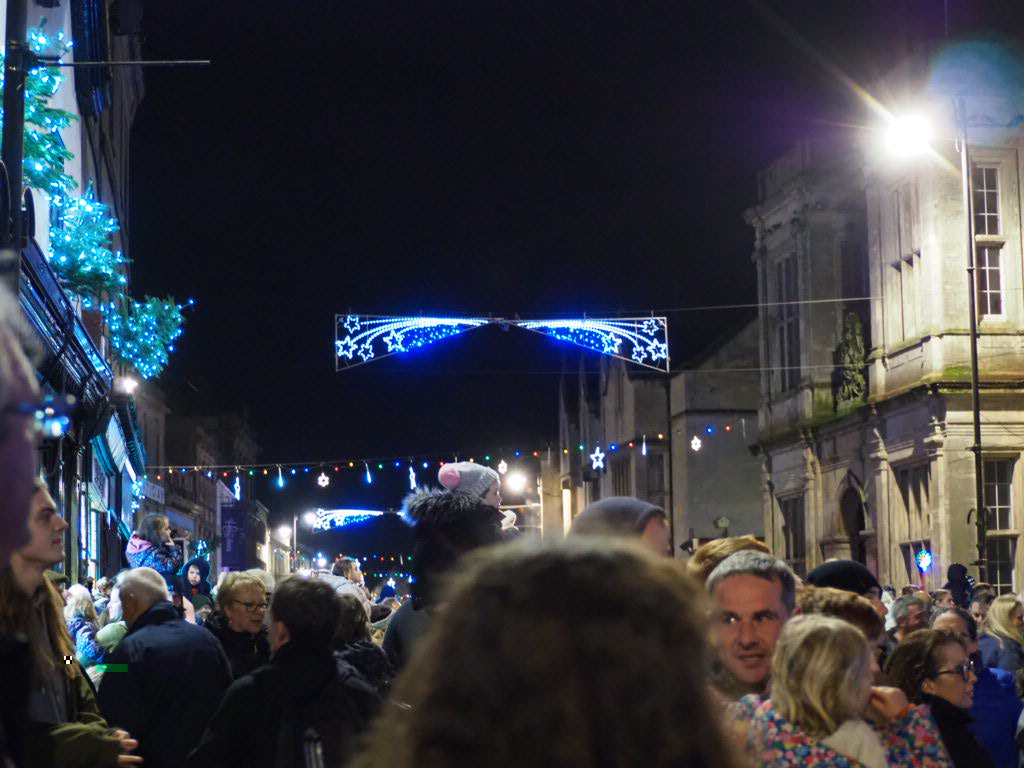 Get MAPS and DIRECTIONS to our Event locations.