Walks Programme
Programme of Walks September 2022 to January 2023
Initial meeting point for all walks is The Civic Centre Car Park, Sambourne Road, Warminster, unless otherwise stated. Please arrive at least 10 minutes before the starting time. 
In the current circumstances due to the Covid-19 restrictions, to take part in a walk please book in advance by calling Heather on 01985 213530.
We are still working on routes/leaders so the programme will be updated. Anyone wanting further information please ring Heather Yates on 01985 213530 or Petrina Clarke on 01985 510052.
| 2022 | VENUE | START |
| --- | --- | --- |
| Sun 4th September | Westwood | 2pm @ Civic Centre |
| Sat 17th September | Longbridge Deveraill & Brixton Deverill. 4.5 miles. Several stiles, fields and woodland paths. Not suitable for dogs. | 10am @ Civic Centre. Picnic/snack required. |
| Sun 25th September | Faukland (Somerset Lavender). 4/5 miles. | 2pm @ Civic Centre |
| Sun 2nd October | Rode | 2pm @ Civic Centre |
| Sun 16th October | Edington. 5.5 miles. | 2pm start from Edington Priory |
| Sun 30th October | Buckland Dinham. 4.5 miles. | 1.30pm @ Civic Centre |
| Sun 13th November | TBD | 1.30pm @ Civic Centre |
| Sat 26th November | Bratton | 10am @ Civic Centre |
| Sun 11th December | Corton/Heytesbury. 4 miles. Flat. | 1.30pm @ Civic Centre |
| Sun 1st January 2023 | Possibility of a local walk. | 10.30am @ Civic Centre |
Sunday walks start at 2:00pm (Late March to October) and at 1.30pm (November to late March). Saturday walks start at 10:00am from the Sambourne Road car park (by the Civic Centre). For all walks please arrive at least 10 minutes before the starting time. Please check the table above to be sure of the start time for your event.
The afternoon walks should be no more than 6 miles in the summer and in winter the afternoon walks are normally no more than 5 miles. Saturday walks may be full or half day and if a full day will be approximately 7/8 miles, which may include a picnic lunch in the spring/summer or pub lunch in the winter.
Those taking part do so at their own risk and the decision to proceed with a walk due to weather conditions rests with the leader.
WALK LEADERS: Committee members have access to fluorescent jackets. If your walk includes roads used by traffic please consider use of these by the leader and back-marker and ask a committee member if you need to borrow any jackets.
If you haven't walked with Warminster Walkers before please feel free to just turn up and you will receive a warm welcome. For further details about the walks please contact any of the following:
Treasurer: Joan Chick 01985 211814
Walks Programme Secretary: Petrina Clarke 01985 510052
Secretary: Heather Yates 01985 213530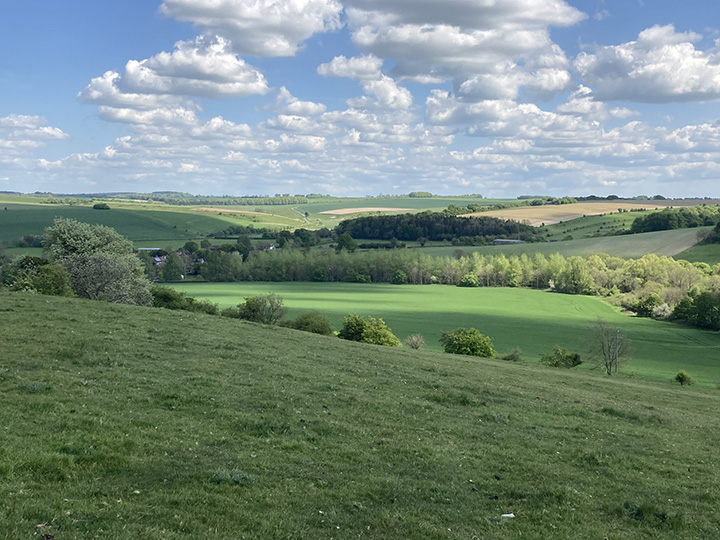 We are keen to attract new members. Anyone who would like to try out some of our walks before deciding if they wish to become a member would be most welcome. We would expect new people to become members once they've tried out a couple of walks.
We recommend new walkers to phone either Petrina or Heather (phone numbers above) beforehand so that we can advise on suitable footwear and warn you if steep hills or climbing stiles are involved on that particular walk if that may be a concern to you.
Suggested contribution to drivers:
'A' walks £1.00 (up to 10miles each way)
'B' walks £2.00 (10 – 25 miles each way)
'C' walks £3.00 (greater than 25 miles each way).