Events - 31 Aug 23
Wed 26 Jul 2023 - Fri 01 Sep 202312:00 am
Extended for the Summer holidays - Wednesday 26th July to Friday 1st September We've made an exciting hunt through the centre of Warminster. Free and...
Ice Cream & Bubbles Hunt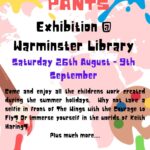 Sat 26 Aug 2023 - Sat 09 Sep 20239:00 am - 5:00 pm
Arty Pants Exhibition at Warminster Library Saturday 26th August - 9th September Come and enjoy all the children's work created during the summer holidays. Why...
Arty Pants
Warminster Library, Warminster Wiltshire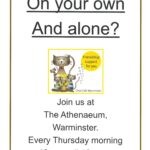 Thu 31 Aug 2023 - Fri 01 Sep 202310:00 am - 12:00 pm
On your own and alone? Join the Chat Café at the Athenaeum for support and the opportunity to share concerns. Every Thursday morning 10am until...
Chat Café, Friendship Support Group - The Athenaeum
The Athenaeum Centre, Warminster Wiltshire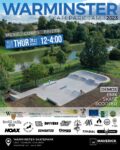 Thu 31 Aug 202312:00 pm - 4:00 pm
Unfortunately due to the bad weather Maverick have had to postpone this event again. They will hopefully arrange a new date in 2024 !!!This...
CANCELLED - Warminster Skate Jam
Warminster Town Park, Warminster Wiltshire