The Mayor of Warminster Councillor Chris Robbins has been raising funds throughout his year as Mayor and was able to split over £1200 between local two charities – Wessex MS Therapy Centre and Alzheimer's Support.  Councillor Robbins was able to give each organisation £603.79.

Based at the Avenue in Warminster, Wessex MS Therapy Centre is a centre of excellence for the provision of therapy, information, practical and emotional support for people with multiple sclerosis and other conditions, and their carers and families.
They offer physical, emotional and social therapies in a comfortable and friendly environment to aid the management of symptoms, promote independence and provide long-term individual support.​ The centre is primarily used by local people but some people travel to it from as far as way as the Dorset Coast such is the need for the facility which handles over 300 treatments a week.
The donation was particularly timely as it was made during MS Awareness Week.
Based at the Old Silk Works, Warminster, Alzheimer's Support is a local charity which exists to improve quality of life for families affected by dementia in Wiltshire.
They support people who are living with dementia in their own homes, helping them to maintain as much independence and control over their lives as possible. They believe that with the right support it is possible to live well with dementia.
Truly person-centred care is at the heart of their operation. Their services include inspirational day clubs, a carefully customised support at home service and a growing range of activity groups – all designed to help people lead lives that are creative, active, productive and meaningful.

Councillor Robbins said "Both these charities do tremendous work in Warminster and both are very reliant on volunteer fundraising to fund their activities. Alzheimer's Support is a cause close to my heart as a relative received tremendous assistance from this charity."

Alzheimer's Support Community Fundraising Manager Rachel Fear said: "We are so grateful to the Mayor for this generous funding which will go to support our Old Silk Works day club here in Warminster. We so appreciate the support."

If you would like to donate to either of these charities see the links below:
https://www.alzheimerswiltshire.org.uk/donate
https://www.wessexms.co.uk/fundraising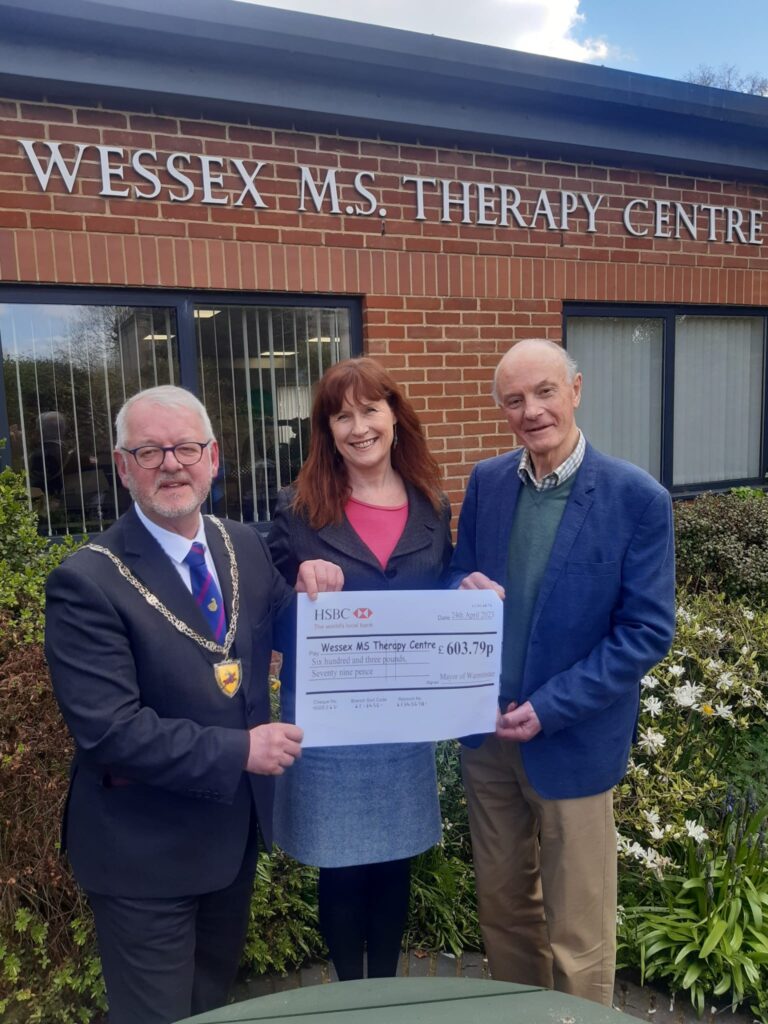 Mayor of Warminster, Councillor Chris Robbins, with Wessex MS CEO: Rosie Eliot and Chairman Mike Davidson.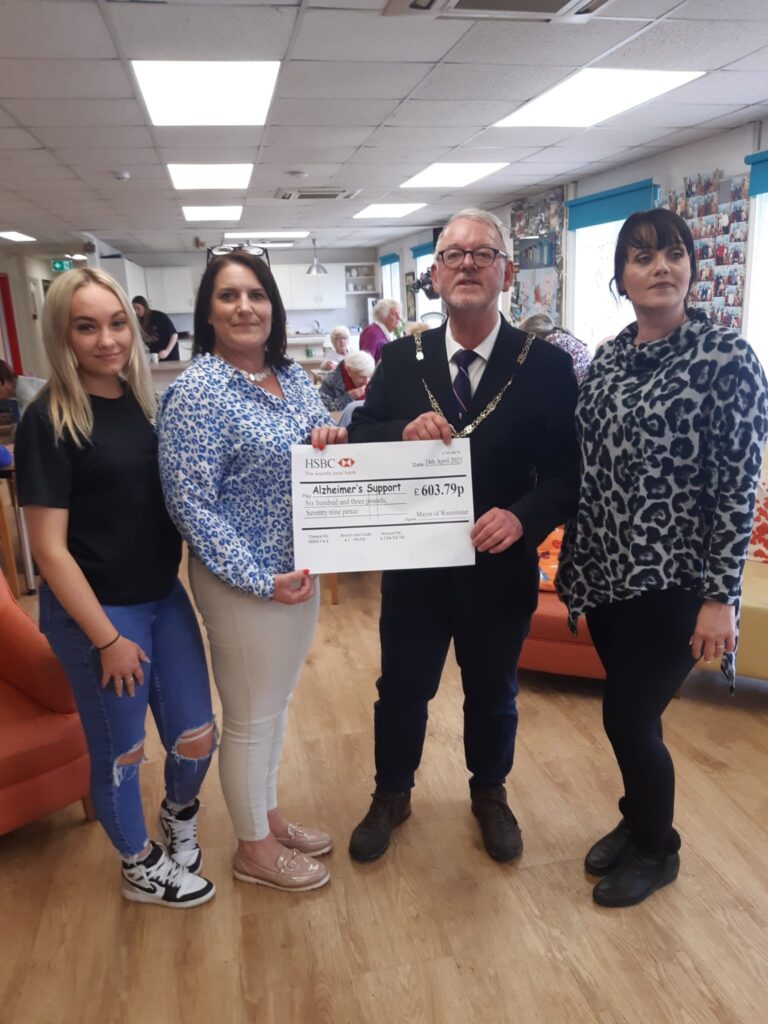 Mayor of Warminster, Councillor Chris Robbins with staff at the Old Silk Works
Last modified: 2 May 2023