Events - 19 Apr 23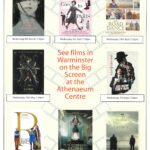 Wed 08 Mar 2023 - Wed 16 Aug 20237:30 pm - 9:30 pm
The Warminster & District Film Society present their latest programme of films shown at the Athenaeum Centre, Warminster Wednesday 8th March, 7.30pm - Where the...
Film Shows at the Athenaeum Centre - March to August
The Athenaeum Centre, Warminster Wiltshire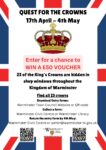 Mon 17 Apr 2023 - Thu 04 May 202312:00 am
23 of the King's Crowns are hidden in shop windows throughout the Kingdom of Warminster. Find all 23 crowns to be in with a chance...
Quest for the Crowns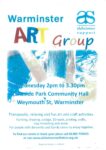 Wed 19 Apr 202312:00 am
Warminster Art Group, Wednesday 2.00pm to 3.30pm, Lakeside Community Hall (Warminster Park), Therapeutic, relaxing and fun art and activities, For people with dementia and family...
Art Group - Alzheimer's Support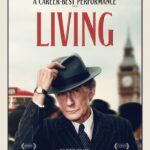 Wed 19 Apr 20231:30 pm - 4:30 pm
Wednesday 19th April LIVING A remake of Akira Kurosawa's 1952 film Ikiru, with a screenplay by Kazuo Ishiguro. When Mr Williams (Bill Nighy), a buttoned-up...
Film Matinee - Living
Warminster Civic Centre, Warminster Wiltshire