The winners of the 2022 Civic Awards have been honoured at a reception hosted by Warminster Town Mayor, Councillor Chris Robbins. The winners this year: Jessica Williams, John Walpole, Clive Thomas and Michael Coleman were given framed certificates and a floral display. They were joined by family and friends for an afternoon tea with the Mayor and other councillors.
The Civic Award winners are nominated by the public and voted for by Warminster Town Councillors. The awards are given to highlight examples of community spirit, those who have 'gone the extra mile', those motivating of others to act positively as well as for individual efforts. This year's winners are:
Junior Civic Award 2022 – Jessica Williams
Jessica is a delightful, inspirational, and selfless individual who engages with the local community confidently and maturely, with their needs at the forefront of her actions.
For six years, Jessica has been making and selling homemade fudge to raise funds for Warminster Cancer Research Group. During the global pandemic, Jessica engaged with the local community, for the community in a multitude of ways.
Jessica developed her fudge stall to also include cookies. This was during lockdown, at home, raising thousands of pounds for charity! She also delivered handwritten letters and flowers to Warminster residents as part of the 'Being Kind' initiative.
Furthermore, during the pandemic, Jessica organised the 'Pandemic Python' at the Chapel of St. Lawrence. This engaged local families and brought people together during the challenging time. During March 2021, Jessica raised £1030 by walking 10,000 steps every day. Her selfless commitment to charity is just incredible!
Green Civic Award 2022 – John Walpole & Clive Thomas
John and Clive have given themselves tirelessly for more than 10 years as Volunteer Wardens for the Wiltshire Wildlife Trust managing and caring for Smallbrook Meadow Nature Reserve. As well as the physical work that John and Clive must do for the maintenance of the meadow, there is also a lot of administrative work to do.
John and Clive also oversee a band of 'Tuesday' volunteers to ensure the best maintenance of the whole reserve to the benefit of the public to enjoy the flora, fauna and open space that Warminster offers to its residents.
Civic Award 2022 – Michael Coleman
Michael is a long-standing resident of the town and has been a volunteer for over 16 years in the Warminster CCTV control room. Each week of these 16 years, on average, he has committed to at least 15 hours a week. This contribution is for the welfare of the people of Warminster and the wellbeing of the town.
The main role of the CCTV operator is to assist in the prevention and detection of crime and to make Warminster a safer place to live. Michael always goes the extra mile to make sure that he is delivering this for the people of Warminster – he has been incredibly successful assisting the police to achieve this. He is a role model to everyone he works with.
As one of the most experienced operators, he always goes above and beyond to train new staff and hosts visits from local groups such as the Beavers and Cubs. His enthusiasm and passion for this is second to none. Michael will always put himself forward to volunteer for special events, such as the Warminster Carnival. He is completely dedicated to ensuring Warminster Town Council always provide CCTV cover for the town.
Michael is an excellent operator, he is always early for his shifts, never late! He regularly stays on after his shift should have finished and is happy to swap shifts to cover for illness and holidays. Michael is respected by his colleagues and peers. At the age of 81 years, he is an inspiration to others. And there is a certain time of year that Michael will don a red and white suit and grow his beard to carry out a very special duty!! But this is a secret to be kept under wraps!
The Mayor of Warminster, Councillor Chris Robbins said, "I would like to congratulate all the winners and thank them of behalf of the people of Warminster for the contribution they make to our town. It is a delight and an inspiration to meet with this year's winners. We should never underestimate just how much a strong voluntary sector contributes to making Warminster such a great place to live."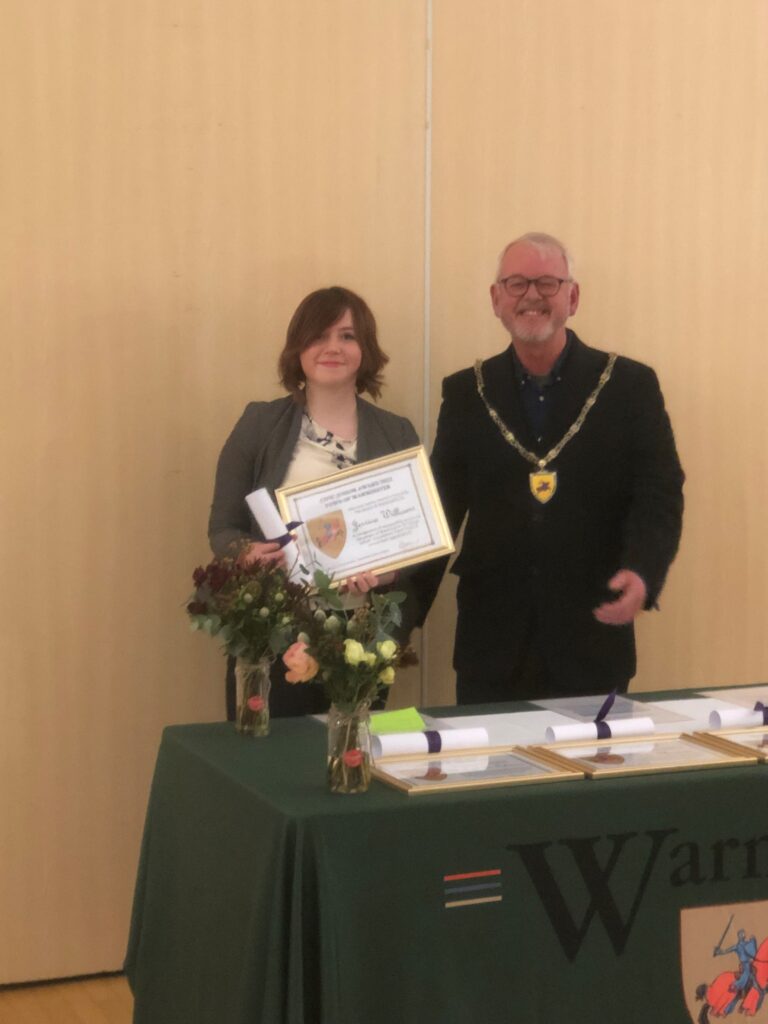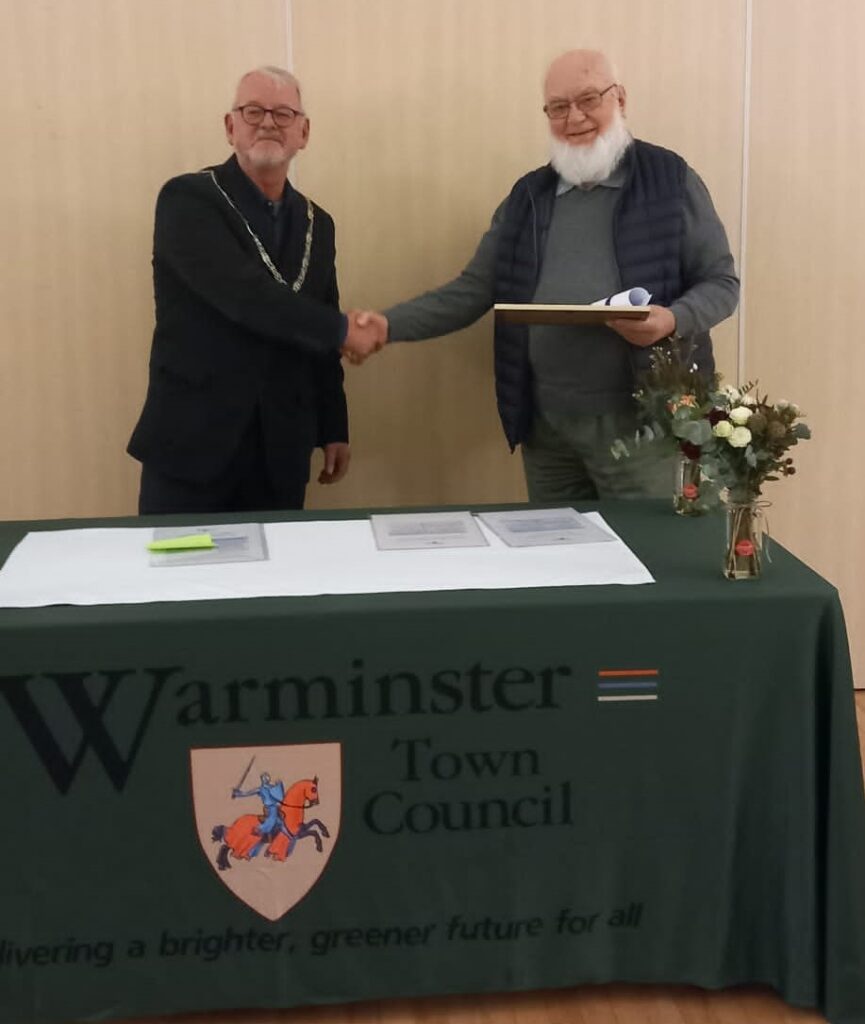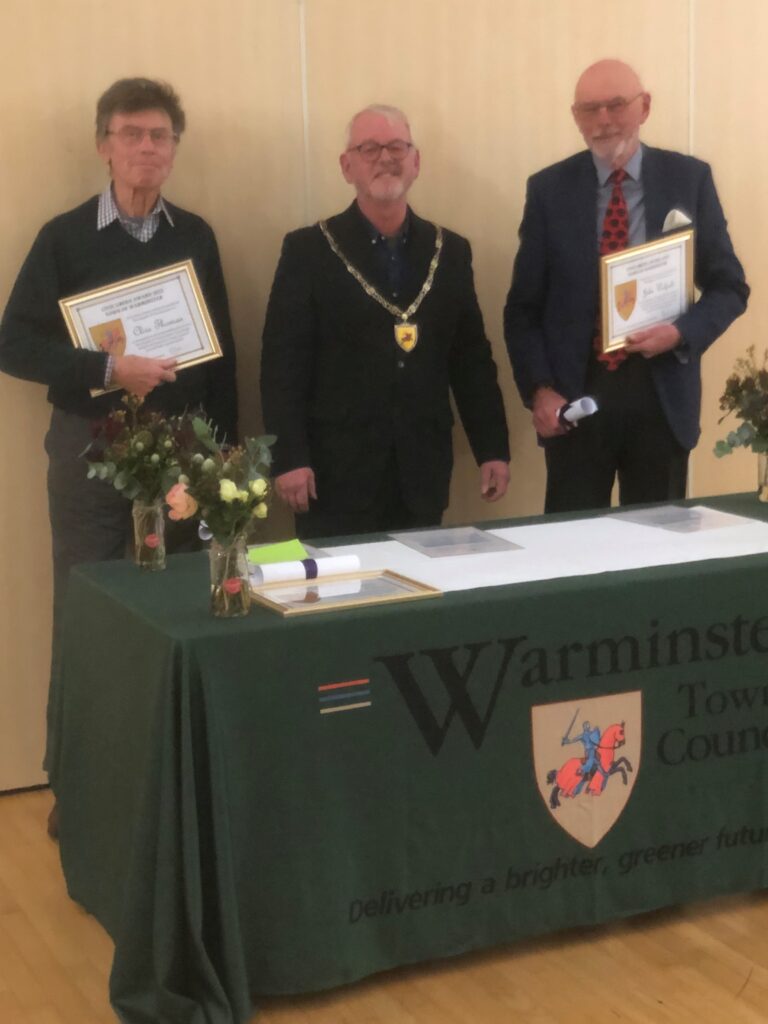 Last modified: 13 December 2022